Without any doubt, this is one of the most volatile periods of our times. COVID19 hit every single person around the world in many ways. Hundreds of thousands have been infected, tens of thousands lost their lives, businesses closed, and cities and countries are in lockdown.
Hard to believe that only a few weeks ago, I was preparing for our first show of the year, the Buy Good Feel Good show at Brickworks in Toronto. We started a new year and a new season hopeful, with sales projects higher than last year. We had just joined a new wholesale platform Faire, and made 3 sales before end of January. This gave us hope and launched a new product and stock up inventory of our most popular designs.
Mid March, just 2 weeks before our show, everything changed. We were in lock down. All stores closed and our shows got cancelled. The brand new inventory we had bought, is still sitting in our storage. We are lucky though, we don't have a payroll and we don't have our own physical stores. Unfortunately it's just our freelance partners that suffering and our charity partner Seva ( we are on a buy one give one model, with no sales, we can not make any donations).
Still, I, as the owner of this company had to make a decision. Do I just stop here, and do nothing? At the same time, our Chinese factory reached out with a new proposal, they were now making face shields. Over the weekend, I worked with them and other factories to find a supplier that can deliver fast certified product. Victorious with my research I got in touch with local hospitals, and connected with dr. Kanna Vela from the Scarborough Health Network. I soon learned that the 200 face shields I wanted to donate will not be enough, so I doubled that, and committed to donate 400 face shields (make it 399, as I kept one for reference if I'll get more from other suppliers).
In less than a week, with the payout from our first orders this season, I acquired and hand delivered these face shields at the Scarborough General Hospital Emergency Department. I am thankful that I was able to do this, and I am working on ways to do it again.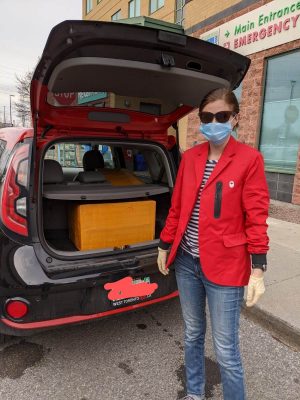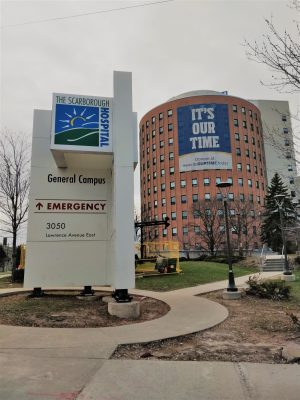 There is a much greater need for supplies in our Canadian hospitals, and we can all help. In the next couple of days we will launch a campaign to raise funds so we can donate more Personal Protective Equipment (PPE) to other hospitals in the Greater Toronto Region. Please follow us on Instagram and Facebook to learn how you can help too.