Wood sunglasses have become increasingly popular in North America, with many celebrities sporting them – we also started receiving inquiries from across the world. Often, we are asked what is the difference between bamboo and other wood sunglasses available on the market.
We, at Amevie, have made the decision to only work with bamboo instead of using other woods. There are several environmental concerns that we considered when we made this decision, which we are going to outline below.
But first, is bamboo strong enough to make sunglasses from? Although bamboo is technically a grass, it has the properties of a hardwood.  It is extremely sturdy, easy to work with ( non toxic for the worker) and it is actually waterproof. Bamboo grows mostly in hot climates, and it is often called the miracle plant, as it is one of the fastest growing plants in the world. This is the main reason why bamboo is eco-friendly and it is relatively easy to sustainably harvest it.
In contrast to bamboo, hardwood trees take 70-80 years to grow to maturity. In the sunglasses manufacturing industry, popular hardwoods used are ebony and zebra woods.  Not only that it takes such a long time to reforest these woods, but they are also native to third world countries in regions such as in Africa and in South-East Asia. Unfortunately these countries are plagued with high levels of corruption and environmental abuse, so these hardwoods are now critically endangered. Since these trees don't grow in North America the use of these hardwoods won't be ecological nor ethical.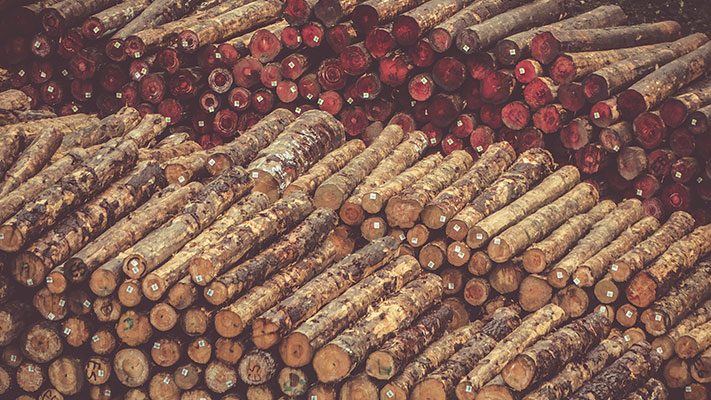 The same appearance can be achieved with bamboo. We use different dying techniques to match the dark colour with ebony and the final result looks the same, and we think, feels even better! Bamboo is lighter, it is waterproof and sweat-proof, and these are some of the reasons why our customers just love our products! We started with a small collection of full frames made from bamboo, but we also added some designs that mix plastic with bamboo that are price attractive. For our next collection we plan on doing a lot more custom work and stain bamboo wood in fun colours.